[Flame King]Naught
Elite Vizard/Shinigami Division 2 - Captain/Vice-Captan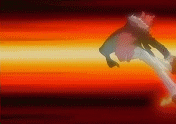 Gender

:

Posts

: 3190


Ryo (money)

: 400919


Rep!

: 3


Birthday

: 1996-02-15


Join date

: 2009-10-22


Age

: 23


GF/BF

: X


Ability

: La muerte Del Mundo LVL 3

Character Area
Name:: Naught
Level:





(9115/790001)


Exp:





(0/60000)

Subject: 8th Division attack Mon Nov 23, 2009 5:25 pm

---

"Man, I have a lot to get used to. These people with these crazy abilities. These psychos who enjoy fighting. And people who can freeze over entire areas. The sad thing im one of the strongest people to be able to fight on par with the captain commander." Naught drew his zanpakutou. "Destroy and recreate, Dios del Demonio." His body as well as his close turned white as black ribbons shot out of his sleeves and wrapped tightly around his wrist. He began to leak white and purple reiatsu. "Sankai!" His black and white blade fell from the sky into his hand. He charged reiatsu over his head and much like the last time the attack charged quickly. This time it was bigger as if he had perfected the technique. He threw it down destroying the whole area. As he was about to disappear he fell to the ground unconscious.